COMMERCIAL & RESIDENTIAL FRONT LOADER SERVICE & DUMPSTER RENTALS
American Reclamation has been providing waste, recycling removal, and front loader service to various businesses and residential residences since 1986. Our rubbish and single-stream recycling collection service is offered on either:
A prescheduled basis from 1 to 6 times per week (Mondays through Saturdays except holidays) according to customer requirements.

An on-call customer request basis with service performed within 24-hours after receipt of customer request.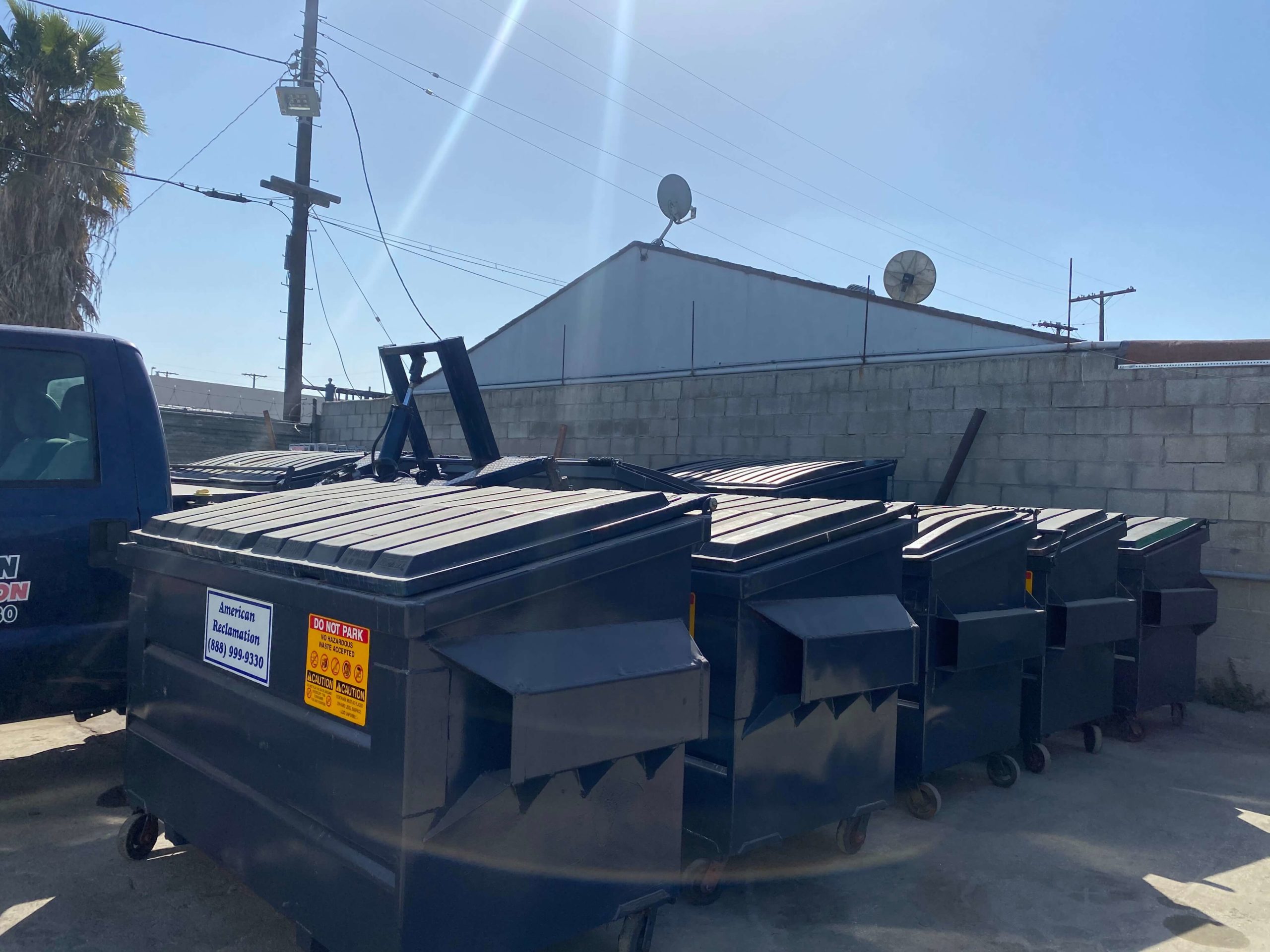 Choose a topic to read more:
Contact American Reclamation toll free at 1-888-999-9330. Or email us here to request a free on-site waste audit and a quote for refuse, mixed recycling and organics recycling collection services.
Recycling & Waste Collection Bin Sizes, Types & Options
For customers who need to recycle food waste and food-soiled paper in small weekly volumes, we offer 2-wheel automated collection carts. These collection carts include 32-gallon and 64-gallon sizes. Green waste and organics recycling collection bins, from 1-yard to 3-yard in size, are also available to customers.
 All bins are fully labeled as to the type of material to be disposed of within them. 
Grey or black bins labeled for trash or wet waste. 

Blue bins labeled for dry mixed recycling.

 Green bins labeled for organics recycling (e.g.: food waste, food-soiled paper and yard/landscape trimmings).

White bins reserved for and labeled for specific source recyclable commodities such as cardboard, paper or scrap metal.
Items That We Accept In Our Organics, Recycling & Trash Bins
We operate our own clean materials recovery facility (MRF) in Los Angeles, CA. Which enables us to sort and process the mixed single-stream recycling we pickup from our customers to maximize our recycling and landfill diversion rates. 
Items that we accept in our mixed recycling bins include:
Dry cardboard

Chipboard and paper

CRV beverage containers

Glass jars and bottles

Aluminum and tin cans

Scrap plastics #1 through #5

Small pieces of scrap metal
Please go to our Current Literature page to view and download bilingual pictorial flyers. Each will explain what we accept in each of our bins. Including items we won't accept in either recycle or trash bins (and how to find out how to dispose of various hazardous materials).
Organic waste composes 40% of waste material disposed of in California landfills.  When organic materials decompose under the anaerobic conditions of sanitary landfills, methane (CH4) gas is generated and escapes into the earth's atmosphere.  Methane is the 2nd most prevalent greenhouse gas, next to carbon dioxide (CO2) causing climate change. 
According to the U.S. Environmental Protection Agency, methane accounts for 10% of our nation's greenhouse gas emissions from human activities. "Pound for pound, the comparative impact of CH4 on climate change is 25 times greater than CO2 (carbon dioxide) over a 100-year period." By reducing and recycling their organic waste, Californians can reduce methane gas emissions and improve the environment and air quality.
Organics waste recycling is not just another way to conserve landfill space. Rather, it is a state requirement hat municipal sanitation departments and commercial waste haulers have to offer and provide to protect our air and our environment. This is an existential quality of life issue that everyone has to commit to resolving together. As well as be willing to change existing personal behaviors and organizational practices.
Organics recycling may appear costly and difficult to implement and perform for some organizations, businesses and property owners. However,  American Reclamation, Inc. can assist with and provide you with the options you need.
Our Standard Front-Loading Bin Sizes By Cubic Yard Capacity:
| | | | | | | |
| --- | --- | --- | --- | --- | --- | --- |
| Size | 1-Yard | 1.5-Yards | 2-Yards | 3-Yards | 4-Yards | 6-Yards |
| Length* | 71 inches | 71 inches | 71 inches | 71 inches | 71 inches | 71 inches |
| Width | 22 inches | 30 inches | 34 inches | 42 inches | 50 inches | 66 inches |
| Front Height** | 27 inches | 30 inches | 33 inches | 39.5 inches | 46 inches | 50 inches |
| Rear Height** | 27 inches | 34 inches | 40 inches | 47 inches | 56.5 inches | 69 inches |
*Add 10 inches to outside length for side fork channels.** Add 6 inches to overall height for casters.
American Reclamation offers optional scout truck service in the Altadena, Burbank, Glendale, La Crescenta and Pasadena areas. This service is for residential homes and customer locations with subterranean refuse bin storage areas or trash enclosures. Push-out service is offered to customers who have bins placed between 25 and 75 feet from the street. 
Clean Air CARB-Compliant Trucks
All American Reclamation's front-loading refuse collection trucks are CARB-compliant to minimize emissions. Each garbage truck is staffed by 2-person crews to ensure safety. Our team members possess the necessary equipment to immediately clean up spills should they occur on customer property or public streets.
Free Customer Waste Audits & Analysis
Our sales staff performs free on-site waste audits and needs analysis for prospective and new customers upon request. This will  ensure proper sizing of required bins and frequency of pickup. As well as educating customers on compliance with State of California laws AB 341 and AB 1826. 
These laws pertain to the mandatory commercial recycling and mandatory organics recycling respectively.  Please go to our Current Literature page to view and download our waste audit questionnaires.
Fixed Monthly Charges and Easy Payment Convenience
American Reclamation's monthly service rates for front-loading bin waste disposal and recycling collection are all-inclusive. It covers bin pickup, material processing and disposal, and all applicable local taxes. We keep our monthly service billing fixed for annual periods. Except for charges for additional pickups made upon customer prior request and approval, we don't tack on:
Variable fuel surcharges

Environmental fees 

Distance charges

Gate closure fees 

Remote fees
We only raise our rates, with a minimum of 30 days prior notice to customers, when there is an increase in local landfill rates. As well as an increase in the Consumer Price Index for Urban Areas (CPI-U) as published by the U.S. Department of Labor. 
We work to keep our monthly billings consistent to avoid surprises to our customers and enable them to meet their monthly operating budgets.  We also offer automatic monthly credit card payment with prior customer authorization and on-line bill pay on our website for customer convenience.